Surfing near Cabo San Lucas
If you don't like getting cold while surfing, the the water around Cao San Lucas is for you. Relatively warm, with easy, consistent waves, make surfing in Cabo San Lucas the warm water lovers dream. Despite this, the lines are short, so you generally won't be waiting in long lines, frustrated at missing the perfect wave.
Surfing areas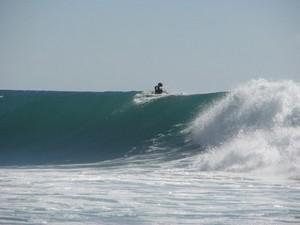 The bottom area of Baja, for surfing purposes, is generally divided into 3 areas - the south facing East Cape, lying east of San Jose del Cabo. It's famous for it's many right pointbreaks. The second area is the southest facing Costa Azul, a little southwest of San Jose del Cabo, right on the tip of the peninsula, Sandwiched between the Pacific and the Sea of Cortez. It's know for it's consistent rock reef breaks and, unfortunately, crowds. The third, and last, area, is the west facing Pacific Ocean, northwest of Cabo San Lucas. It boasts dependable beaches and great rock reef breaks.
History
The area was surfed by Californian fisherman and sailors as early as the '50s. Some footage for the '68 surf flick, Golden Breed, were shot here in 1967 at San Jose del Cabo. However, despite the building of the Trans Peninsula highway, completed in 1973, the area really didn't gain much popularity until the mid '80s. During the mid '80s and early '90s, upmarket condo developments and golf resorts began appearing along the coast from Cabo San Lucas to San Jose del Cabo. 1991 saw the first big surf contest held there, the Fletcher Los Cabos Classic, won by world famous Kelly Slater. The Surf Industry Manufacturers Association (SIMA) started an annual conference here in '98. The Tip shows no signs of slowing down, with planes cars and boats arriving regularly, full of sun seekers, wave riders, and all other manner of tourists.
What to watch out for
Other surfers! True, the lines aren't huge, and going to the less popular beaches will ensure this, but there are still many places - Zippers, for example - where hopping out of your car, and paddling out to find an uncontested wave just isn't going to happen. But it doesn't happen at Maui either... A gift of a cold beer goes a long way to smoothing the transition!
Urchins need to be avoided, especially in some areas like Monuments. And places like The Rocks can get pretty hot and literally drain the life out of you. And don't forget to wear good sunscreen, whatever beach you're at.
Sharks, stingrays and jellyfish can sometimes be a problem while surfing. Out of the water, watch out for snakes, scorpions and spiders. And, while driving at night, be extra vigilant as livestock frequently wander or sleep on the roads.