About Casa Mario
Casa Mario should be your first choice for a vacation rental in Cabo San Lucas, whether you are coming with your extended family, or as a group of guys or girls getting away. Once you stay here and experience the convenience of all that lies in a stone's throw, you will find that the location really is the best in all of Cabo.
My name is Tim Davidson and I help run the house that our family purchased in 2004. Since then, we have been to Cabo several times a year and enjoyed every minute. We bought this house because of the location and then converted it to a more vacation-friendly lay-out, making some structural changes and freshening it up with all new paint, furniture, A/C systems, kitchen remodel, pretty much everything. You won't need to spend a minute or a dime on taxi fair, as everything is within walking distance, making Casa Mario the CLOSEST PRIVATE VILLA YOU CAN RENT TO MEDANO BEACH, one of Cabo San Lucas's Best Kept Secrets.
Situated close to everything you need to make your Cabo San Lucas holiday a success, Casa Mario boasts the following amenities:
The house itself is extremely private and secure, with a ten-foot stone wall around the perimeter and ample security measures in place. The small, but deep, fresh-water pool is completely hidden from any public view; bathing suits truly optional!
Upstairs there are (3) SPACIOUS bedrooms, each with its own FULL and private bath. There are SEVEN beds total (two queens, two queens, two queens and a twin); there are also TWO pullouts downstairs. Each room has its own A/C and all rooms have ceiling fans. Casa Mario SLEEPS UP TO 10 very comfortably. There is 3,200 square feet of indoor space.
Downstairs there is a half bath, a large family room with a 48" FLAT SCREEN TV hooked up to Satellite, entertainment system, wireless network system, unlimited US calling, two sitting rooms with all kinds of games and books, a dining area that seats 10-12, a complete and remodeled kitchen, and a large gas operated BBQ just off the kitchen.
Outside each room upstairs there are balconies, and downstairs there is porch sitting and poolside sitting, along with (3) lounge chairs by the pool. There is a chiminea that you can light up with firewood and a built-in firewood/charcoal fireplace in the corner by the pool.
The house is fully stocked with everything you need to be comfortable, including a private washer and dryer. We are set up for daily maid service except for Sundays and Mexican holidays, but can flex to come every other day or every third day, depending on what your group wants. We prefer every other day.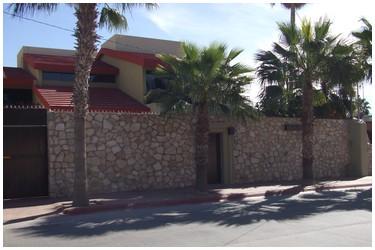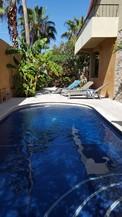 | | | |
| --- | --- | --- |
| A Must Do: Day Sail with Captain Bob | Go to the gym before you hit the beach--one block up the street | CaboActivities--Medano Beach |